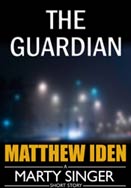 That was easy! Just check your email for instructions on how to download your free copy of The Guardian in .mobi, .epub, or .pdf formats—suitable for all e-readers, computers, tablets, and phones. 
As I mentioned in the sign-up form, you're now also part of my Readers' Group, which entitles you to learn about more free stories, book releases, and great giveaways. Just a few emails a month and you can unsubscribe at any time.
If you think you'll enjoy The Guardian, check out the rest of the Marty Singer Mysteries by starting with A Reason to Live, the first in the series. It, and all the books in the series, are just $3.99 for the Kindle version—less than a cup of coffee at Starbucks. Paperbacks and audiobooks are also available for most titles.
Thank you so much! If you have any trouble, please contact Matt Iden at matt.iden@matthew-iden.com. Enjoy the story!